- Iwan thinks he could have got a lot better with time. Like all that time he spent running off to present motorsport instead of training?
- Iwan is planning to lock Peter in a cupboard.
- Iwan thinks Anita might win; Ola thinks Peter.
- Kellie mutters cha cha rhythms whilst having breakfast.
- Ainsley thinks the moves you learn in Strictly never leave you. He's never watched the 'last year's winner' reprisal dances, clearly.
- Daniel O'Donnell is the new 'Eric and Ernie' according to Karen Hardy.
- Accenting the 1 beat is a salsa, accenting the 2 is a mambo.
- The judges actually rehearse their dance-on (or 'the Strictly' as we shall not call it...)
- Zoe thinks you can't get enough Len Goodman on the show. It's that sort of thinking that leads to things like Len's Lens, Zoe.
- Miranda Hart is very keen for Jeremy Vine and Judy Murray to do a showdance.
- Pasha can really rock a white shirt.
- The contestants have their own private WhatsApp group where they bitch about training.
- Carol has never known such pain as in the balls of her feet during ballroom training. I'm sure if I were partnering Pasha my balls would be aching too.
- Jamelia "did cry a few times" after the weekend's results, but she's giggling again now.
- Zoe is using the term Clauditorium.
- Jamelia didn't have her hair down in any of the rehearsals for the cha cha cha. Whoops.
- Tristan thinks that being in the dance-off isn't always a bad thing, because they've now got one more live dance for an audience under their belts than all of the other couples still in the competition.
- Karen Hardy wonders if Len marked Anita and Gleb down because their dance was a bit too much like the Lindy Hop. PURITY OF DAHNCE.
- Dancing is music and our bodies are pianos. According to Karen Hardy.
- In honour of his dance to 'Let's Misbehave' last week, Daniel misbehaved by doing a bit of an Irish barn dance, THE SCOUNDREL.
- Kristina is going to be Virginal Sandy, not Slutty Sandy, for their
Grease
-themed routine. Stop laughing, you at the back.
- People on the internet are likening Anthony and Oti to Naveen and Tiana from
The Princess And The Frog
. Bit racist?
- Oti sent Anthony a text on Tuesday morning saying "I trust you". That wouldn't freak me out at all.
- Jay was always going to cut his hair at the end of this year and donate it to a wig charity anyway.
- Zoe was really hoping Jay was going to have a side ponytail before he cut his hair. Weren't we all, Zoe. Weren't we all.
- Aliona does sometimes have her eggs scrambled, but she always has them fried for Monday morning pro rehearsals.
- Jay doesn't really do breakfast.
- Janette had no experience of aerial spinning before Sunday's pro dance apart from a little bit of practice that day, but she was very dizzy afterwards.
- Peter's son Junior still hasn't forgiven him for wearing high-waisted trousers on the show.
- The junior judges think Carol looks like a princess, Pasha like a 'wealthy man' and that Jay used to look like a lion but doesn't now.
- The Junior Judges find the dance-off hard to understand. Seems like as good a reason as any to GET RID, to be honest. (Of the dance-off, not the kids.)
- Natalie has never had to be a penguin before, and she hopes she'll never have to be one again.
- Karen shouts "Darcey!" at Jeremy every time he doesn't extend his arms properly. She actually shouted it once during Saturday's live show, which Jeremy thinks was probably confusing for Darcey Bussell.
- Ian doesn't think Peter can do smooth and sophisticated.
- Gleb and Anita are doing a Viennese Waltz American Smooth, which is apparently very rare.
- In training for her charleston, Kellie has been "banging [herself] in places that [she] really shouldn't". Quite bold of her to admit that on TV, really.
- Giovanni wears a suit and shoes combined with NO SOCKS and is therefore on my list.
- The waltz is really uncomfortable for your arms.
- Kirsty is apparently going to be a sexy Scooby Doo on Saturday.
- Karen Clifton swears by heel guards on her shoes, because they protect her heels and also make her slightly taller.
- Anita had never done a handstand in her life before her charleston.
- Gleb has no interest in being boring just to impress Len.
- Delta Goodrem is apparently still only a "pop starlet" even after all these years.
- Gethin Jones hasn't exactly got any uglier recently.
- Brendan is still a danger to audience members everywhere.
- Anton seems to think Gethin was on series seven, but let's face it, the memory's always the first thing to go.
- Vicky Gill can't just do direct rip-offs of movie costumes because copyright.
- Gethin actually insisted we take a screengrab of this moment and we always do what we're told, so here you go. It's not quite that gif of him touching up Matt Di Angelo, but it will do for now.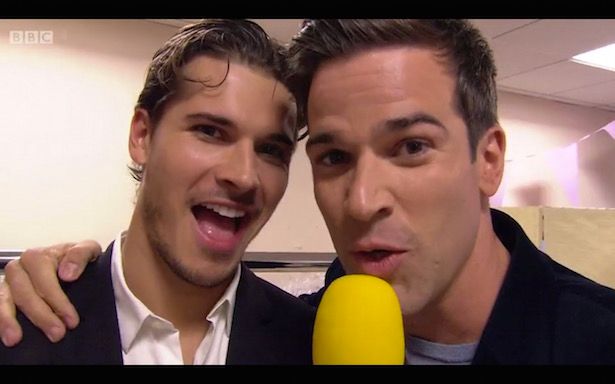 - Russell Grant could do with a nice big mug of shut the hell up when it comes to musicals.
- Helen has always wanted to dress up as Marilyn Monroe. Not the biggest of surprises, is it?
- Since their theme for Movie Week is Some Like It Hot, Aljaž has been training in drag all week.
- Aljaž made Helen cry this week, apparently it was the first time it's happened.
- Jamelia can still remember the dance routine to 'Superstar', but not the lyrics.
- Jay thinks people want to talk to him about his haircut so much because he hasn't got anything else interesting to say.
- Kevin doesn't like the cha cha cha because it's hard to make it entertaining.
- Kellie is slightly alarmed by how possessive Kevin is over his lightsabre.
- Delta Goodrem is up for doing Strictly.
- Russell Grant did not know Peter was Australian.
- Fatboy Slim is in love with Aljaž.