2016 Christmas Special - 25 December 2016
Welcome back for our final recap of the year, for that oddest of shows that is filmed in November, broadcast in December and usually recapped in January (I'm a little ahead of the game this year -
just
)
[I'm late, by contrast, because I was trying to forget this ever happened - Rad]
. It's going to be even odder this year because we spent all that time saying goodbye to Len in the finale, and now he's going to be back for this. Not that Len's contribution to the episode is going to be terribly game-changing - in fact, he could've sacked off the whole thing and just propped up a 10 paddle in his chair instead, but I'm getting ahead of myself.
We open on a winter's night at a sprawling country manor, and I have to pause and double check that this isn't the same one where
The Rocky Horror Picture Show
was filmed. (I went to a wedding there once, and even though the wedding itself was not
Rocky Horror-
related in any way, it was still awesome.) Once we get inside, it's Christmas and Pasha, Gorka and Anton are dressed in their finest tailcoats as they twirl Karen, Janette and Chloe around. Oh, you'd better believe it, Chloe's making her competitive debut on this episode. I'm so excited. As they twirl around the building to the strains of 'It's Beginning To Look A Lot Like Christmas', we meet the celebrities who will be appearing in this episode and the Christmas films that their dances will be themed around. Anton finds Denise Lewis (
Meet Me In St. Louis
, which I thought briefly was a very clever Lewis/Louis pun until I realised that it's pronounced "Louie" for the film, at least) playing the piano, while Pasha opens the door to reveal Pamela Stephenson holding up one of those wretched handwritten placards because she's going to be doing
Love Actually
. Karen sneaks down the stairs holding a candelabra to find her accomplice Ainsley Harriott robbing the place because he's doing
Home Alone
and, having heard about this theme already, I'm just relieved neither one of them is going to be playing Kevin McAllister. Gorka finds Frankie Bridge hiding behind a snowman because she's doing
Frozen
, while Janette finds Melvin Odoom handing out presents in a silly hat because he's drawn
Elf
and finally Chloe finds Gethin Jones hiding behind a train set because he's doing
The Polar Express
. (I can't believe Gorka isn't partnering Gethin, what a wasted opportunity to capitalise on all of that untapped sexual chemistry.) I should probably warn you now: I have only seen two of these six films (
Frozen
and
Home Alone
), so there may well be cultural references ahead that will be entirely lost on me. (And if you're planning to comment exhorting me to watch
Elf
or
Love Actually
immediately, I'd advise you not to bother because they both look fucking terrible and it's no accident that I've made it this far without ever having seen either of them.)
[I've seen both. Barely remember Elf but Love Actually is one of the worst films I've ever seen - Rad]
.
Pamela and Pasha pull a curtain open and suddenly we're in the studio, where Tess and Claudia arrive, escorted by Giovanni and Brendan respectively. They're attired suitably Christmassy, with Tess all in white and Claudia all in red. (I discovered while spending Christmas with my family that my mum can't stand Claudia Winkleman, which just adds further fuel to my suspicions that I was sent home from the hospital with the wrong parents.) Claudia 'n' Tess welcome everyone to the show (including the various members of the cast of 2016 scattered across the front row - Daisy looks very excited to be here, bless her) and explain for anyone who was asleep during the opening VT that each dance tonight will be themed around a classic Christmas movie. If you watched this episode with anyone who complained that they weren't doing
Die Hard
: leave them. Claudia also promises that Matt Goss will be here tonight to sing 'White Christmas', because this episode has a 75 minute timeslot and you'll probably need a wee at some point. The judges enter dressed as characters from
The Chronicles of Narnia
: Len as "the King of Narnia" (which one? Frank I? Peter The Magnificent? Edmund The Just? Caspian VIII? Come on, if you're going to have as explicit a theme as this, you can't allow the wheels to come off at the very first corner), Darcey as the White Witch (she's been called worse), Bruno as Prince Caspian and Craig as
a Cowardly Lion costume they clearly dragged out of an old Wizard of Oz skit
Aslan the Lion. Craig will be dressed like that for the whole evening, bless him. Also, there are no jokes about anyone having been in the closet, so let's just be grateful for small mercies.
And then we meet our Christmas stars, even though we've already met them in the VT: from The Saturdays, pop star and presenter Frankie Bridge and her partner Gorka Marquez, celebrity chef Ainsley Harriott and his partner Karen Clifton, writer and comedian Pamela Stephenson and her partner Pasha Kovalev, radio and television presenter Melvin Odoom and his partner Janette Manrara, former Olympian and presenter Denise Lewis and her partner Anton Du Beke, and finally TV presenter Gethin Jones and his partner Chloe Hewitt. Claudia reminds us that there will be no phone vote tonight: instead the studio audience
[comprised of the 2016 cast, which may become relevant shortly... - Rad]
will vote for their favourite, and their votes will be combined with the judges's scores to crown our Christmas champions.
First up are Ainsley and Karen, who will be doing a jive to 'Rockin' Around The Christmas Tree' from
Home Alone
. His VT opens with an understandably short selection of highlights from his brief stint on the show last year - that tomato-themed salsa being the obvious standout - and Ainsley tells us all how he's thrilled to have been invited back and partnered with Karen, explaining that they're playing Harry and Marv and they'll be trying to break into the house to steal the Christmas trophy. Well, I'd say a sizeable chunk of Digital Spy posters just rushed to their laptops to confirm that this just
proves
everything they've always said about those dodgy Cliftons. He apologies to Natalie for the shift in his pro-partner loyalty, and Natalie's like "bothered, I got an athlete this year". In training, Karen says that she loves dancing with Ainsley and that he has a "natural groove" (that's basically the same as "natural rhythm", right? Just want to know if I should add that to the counter). Ainsley points out that he got knocked out of the competition the week he did the jive, so he feels he's got something to prove here. As it's Christmas, Karen and Ainsley are also dispatched to spread some good cheer by putting up a tree in a local care home and dancing with some of the residents. Ainsley says that bringing people together at Christmas is what it's really all about. That's odd, I thought it was about doing the hokey cokey and turning yourself around.
The routine begins (with Neil making a cameo as Kevin, looking at his hand-drawn battle plans to stop the burglars) as Ainsley and Karen scramble in through the fireplace before deciding to heck with robbery - let's do a jive instead! There's a slight Shakin' Stevens quality to Ainsley's dancing, and the fact that he's hunched over most of the time probably doesn't do a lot for his balance or bounce, but at least there's a lightness to the routine. The less said about the kicks and flicks the better, though. Anyway, Ainsley looks like he's having a blast, and honestly it's just quite nice to have him back - he was always pretty fun during his short time on the show. The routine ends as Ainsley and Karen remember their mission and make a dash for the trophy, just as Neil snatches it away from them at the last moment.
Tess tells Ainsley it's lovely to see his big smile again, and Len declares that this is how you get a Christmas party started. By entering through the chimney and then forgetting what you went for in the first place? He adds that Ainsley attacked it like he was stuffing a turkey - full of energy and full of go. I usually just use Paxo myself, but each to their own. Bruno says that you can trust Ainsley to cook up a storm, and he's sure it wasn't a turkey this time - it was more like "a juicy jiving goosey... a bit loose around the trimmings, sometimes". Craig thought the kicks were laboured, but "because it's Christmas" he's going to focus on the good bits - he loved the Elvis knee knocks, the personality and the showmanship. Darcey finishes by saying that he put a smile on her face from the outset, and he made those long legs work very hard.
They head up to the Clauditorium, which is apparently "Claudia's grotto" for tonight's purposes. Ainsley says it's a joy to be back here opening the show and surrounded by people dressed up for Christmas. Claudia asks Karen if Natalie gave her any tips on how to work with Ainsley, and Karen claims that Natalie told her "just make believe you're cooking bacon the whole time". Judging by Natalie's ill-fated stint on
Celebrity MasterChef
, I don't think I'd be terribly quick to take that advice. Scores: Craig 7, Darcey 9, Len ("Christmas, it's a time for giving and being generous!") 10 and Bruno 9 for a total of 35. Claudia points out that that is a 14-point improvement on Ainsley's last attempt at the jive. Mmmm. As there are no terms and conditions because there is no phone vote, Claudia simply welcomes some dancing pigs wearing blankets ('pigs in blankets', you see) to join her for a quick boogie.
We cut back to Tess not a moment too soon, because one of the pigs' heads looks like it's coming loose and we don't want to scare the children, so we move onwards to Gethin and Chloe. We're reminded that Gethin made it to the semi-final in 2007, and Gethin says that he's never really lost touch with the extended
Strictly
family - he went to America and worked on
Dancing With The Stars
for a bit doing their answer to
It Takes Two
, and then came back to work on the original
It Takes Two
and flirt with Gorka
. This time he'll be dancing with Chloe, who is new to the show but is also the world European and Latin national champion, and he thinks she's going to be a harsh taskmaster. In training, Chloe says how excited she is to
finally
have a partner on the show, and Gethin is the perfect partner. They're doing a quickstep (which appears to have sizeable chunks of charleston thrown in) and Gethin notes that Chloe is working him so hard, oh no he's so sweaty, why are there no towels around, gosh I'll just have to use the bit of my t-shirt that normally covers my chiselled abs to mop my feverish brow. Don't worry everyone, I've got this covered: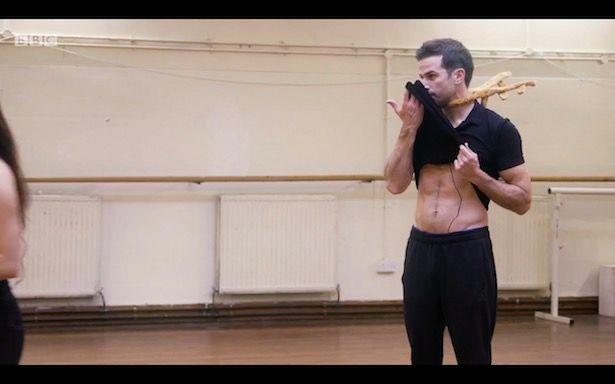 You are all quite, quite welcome. Gethin and Chloe proceed to swap presents: he's bought her ankle weights to help slow her down, and she's bought him a lycra outfit so we can all get a proper look at the good stuff to help him speed across the floor. The main takeaway from this bit is that for such a buff, athletic man, Gethin has tiny skinny calves.
Back in the studio, Gethin is lowered to the dancefloor inside a massive train to dance to 'The Polar Express' from
The Polar Express.
Gethin is the conductor (he can stamp my awayday anytime, etc etc) and Chloe a glamorous passenger who stops the train to quickstep with him, to what I presume is the fury of the other passengers who all have places to get to and connections to make. It's a lovely smooth quickstep, with lifts chucked in because apparently nobody cares about the rules at Christmas. The charleston section feels a bit unnecessary, and Gethin messes up his hands during the side-by-side shuffle section, but it's still very enjoyable and bodes well should Chloe get a proper partner next year.
Tess remarks upon Gethin being Chloe's first partner on the show, and Chloe says "thank you for making this such a joy for me - my first". Calm down hon, it's not prom night. Bruno declares his intent to buy a season ticket, and tells Gethin that he's still got it. Craig says that Gethin's thumb popped up briefly, but it was bright and lively and he loved the charleston interlude and he'd forgotten how good Gethin is. Darcey tells Gethin he "steamed through that with ease" (someone's after Len's job when he goes) and he kept in sync from beginning to end. (Apart from that one bit where he quite obviously didn't, but hey ho, she's probably going to be head judge next year and there's nothing we can do about it.) Len calls it a Christmas cracker and says that Gethin got his baubles bouncing, and on first viewing I think this was the bit where I felt some of my Christmas dinner attempting to make a reverse exit. He likens it to a glass of champagne: crisp, clean and delicious.
They head up to the Clauditorium, where Claudia says he "practically won" when he was on the show before (and could in theory have topped the public vote the night he went home, and might well have beaten Alesha if he'd made it to the final instead of Matt, and
Strictly
history could've been very different indeed) and he's basically part of the family now. Gethin says it's a very different feeling out there for sure, Claudia tells Chloe she's amazing, and the scores come in: Craig 9, Darcey 9, Len 10, Bruno 10 for a total of 38. Claudia informs Gethin that this bests his previous quickstep by four points, and Gethin wryly congratulates her on her "good knowledge". A choir appears, sings 'Ding Dong Merrily On High'.
Pamela and Pasha are next with their Christmas cha cha cha. I'm actually thrilled that Pamela's back, because I really disliked her during her stint on the show and it was only in retrospect that I came to appreciate how hilarious she was - I think it had something to do with the peace of mind of knowing she wasn't going to propel James Jordan to the win. In her VT, Pamela says that
Strictly
created "a bit of a dance monster" in her and you can't stop her these days. She's very excited to be partnered with Pasha, and has been admiring his
arse
work from afar. Their dance is based around
Love Actually
with Pasha as Hugh Grant and Pamela as Martine McCutcheon, and Pamela recalls that when she did the cha cha cha the first time around she got 32 for it; she hopes the judges will take the hint of her dance being set at No. 10. In training, Pasha says that it's going well, but Pamela's such a perfectionist that she sometimes stops in the middle of the dance because she wants to get it exactly right. Pasha tells Pamela to "hop on my Pasha Santa sled and I'll take you to Cha Cha Land". Pretty sure Pamela only heard "hop on and I'll take you" if her sex advice columns are anything to go by. Pamela says that she's enjoyed partying with Pasha in training, and she just hopes she can bring that to the ballroom.
They're dancing to 'Jump (For My Love)' by Girls Aloud, with Neil making another cameo as the security guard outside No 10 Downing Street. Pamela once again puts contestants who are at least 30 years her junior in the shade by moving incredibly easily through the routine, and Pasha's imitation of Hugh Grant's dorky dancing is adorable. The only real downside is that it's a cha cha, which is rarely the most impactful of dances, so I don't necessarily think this effort is going to get the credit it deserves in the vote, which is a shame. Also, the lift at the end where she does a handstand up onto Pasha's shoulders is a little unsteady.
Pamela says it's such a wonderful Christmas gift to be able to come back and strut her stuff again. Craig says he was "scared for his life" in that last lift but she made it up there, and she was fantastically on time and she "hasn't lost a thing". Darcey loved the cleanness of her accents and the cracking finish of the tumble-turn into the lift. Len says that she's like Santa because she's always on time and she always delivers - "what a cha-cha-charmer you are". Bruno finishes by saying that Pamela is "the top whip in the cabinet".
As they run up to the Clauditorium, you can see where half the make-up on Pamela's face rubbed off on Pasha's trouser leg in that final lift. Hee. Claudia tells Pamela that she and Tess cried for a week when she left, Pamela says that Pasha's amazing and then she and Pasha do the "no,
you're
amazing" thing back and forth and it's cuter than it has any right to be. Pamela says that at her age she's "just glad to be able to get around upright", and the scores are in: Craig 9, Darcey 10, Len 10, Bruno 10 for a total of 39 - a seven-point increase on her previous attempt.
After a preview of the three dances yet to come, Tess and Claudia do their intermission comedy bit where Claudia is waiting under the mistletoe for Gorka to give her a kiss, only for Gorka to sneak up and kiss Tess instead while Claudia's got her eyes closed. That Gorka appears to be the show-approved target for everyone's lust this year gives me hope that he'll be back next year.
Denise Lewis is next, wearing the slightly forced grin of someone who's been away from the show for so long that she's now officially Anton-fodder. Tess reminds us that Denise made it to the final of her series but was beaten by Jill Halfpenny: Famous Original Megaringer. In her VT, Denise says that she has "such happy memories" of her time on the show: the glitz, the glamour, that time in the semi-final when she was in the bottom two despite being top on the leaderboard. However, it was 12 years ago, and that's a long time. Denise tells us that since her time on
Strictly
, she has retired from athletics and turned pundit - we may remember that time she got really excited watching Mo Farah win in 2012, but she's
even more excited
to be doing this Christmas special. Sure, Jan. Denise thinks that Anton is "the King of Ballroom" and it's just perfect that she's going to be dancing with him on Christmas Day. I feel like someone is threatening her family to make her say these things.
They're doing a Viennese waltz to 'Meet Me In St. Louis, Louis' from
Meet Me In St. Louis
, and Denise informs us that she's had three children since she was on the show, so she thought she'd bring "the little one" to training. Kane (for that is his name) pulls a cracker with Anton and then forgets Anton's name shortly afterwards. Harsh but fair. Kane scores his mum a 10 and wishes her a merry Christmas. Awww.
Denise still gives great ballroom and shows that she's not especially rusty despite her 12-year absence from the dancefloor as Anton whirls her around and around, though there are a few skippy moments where she seems to be struggling to keep up with him. Her posture is fantastic though, and she looks fantastic and elegant throughout.
Tess tells Denise that she looks better than ever, which immediately sends Anton into autopilot chirping out "better than ever! Younger, I'd say!" with his typical level of sincerity. Darcey loved the stunning fleckerl that kept going, and Len literally just word vomits a stream of consciousness about merry-go-rounds, pickled walnuts and the like, and he really could not be phoning it in any more at this point could he? Bruno calls Denise "radiant" and says that he couldn't have wished for a more precious Christmas gift both in terms of presentation and content. Craig says that the spotting was a little stiff in the turns, and it got skippy, but she maintained her frame and was graceful and gorgeous.
Up they go to the Clauditorium, where Anton shouts "MERRY CHRISTMAS!" and twirls Claudia around like he's had too much shandy, and Claudia tells us that Denise spent all of her time in training laughing. I imagine Anton has that effect on a lot of people. Denise says it's lovely to be back, and dancing with Anton. Scores: Craig 9, Darcey 9, Len 10, Bruno 10 for a total of 38. Anton grabs Denise and starts screaming "TENS! THIS IS WHAT IT FEELS LIKE!" I imagine Denise is feeling tens(e) at this point as well, Anton. Put her down.
Now Tess is sitting between Laura and Lesley, and introducing Melvin and Janette as the camera pulls right out to show us the class of 2016. From left to right, if you're interested: Tameka, Claudia, Laura, (Tess), Lesley, Greg, Naga, Louise, Ed, Danny. Poor Daisy/Rinder/Ore/Anastacia. I wonder if Will's even in the WhatsApp group any more. In his VT, Melvin states that he left
Strictly
"really early" but he's back and very excited. He's also, conveniently, the only celebrity paired up with his original partner tonight, so there's no awkward getting-to-know-you stage for Melvin this Christmas. They're dancing a charleston to a song from
Elf
that is apparently called 'Sparklejollytwinklejingley' (and you wonder why I have been avoiding this film?) and Janette says that Melvin is putting everything into this routine because he wants to come back with a bang for Christmas. Melvin does a Buddy the Elf impression and I idly wonder where I left the extra-strength Panadol. Janette takes Melvin to Hamley's for inspiration and like all visitors to that store in the run-up to Christmas they emerge several hours later, battered and bruised and swearing to get themselves sterilised at the first available opportunity. Or they meet some "elves" and go to Santa's Grotto, or something. Let's just start it so we can end it.
Well, the first thing I can say about Melvin's charleston is that it's better than any of the dances he did during the series proper.
[It was basically a week three would-be-second-to-bottom-given-Ed dance - Rad]
Sadly, that doesn't mean it's particularly good: there's zero swivel as far as I can see, he's not particularly in sync with Janette, and the second half of the routine basically features Melvin barely moving his feet as he serves as a human prop to get Janette through a series of increasingly acrobatic lifts. Still, it gets a roaring reception because it's a charleston and as long as you get through it without literally dying, you're pretty much guaranteed a standing ovation. The Class of 2016 remain on their feet and hollering long after everyone else has taken their seats, and you just know the second row is thinking "I don't care if you're Louise Redknapp,
sit the fuck down
".
Len tells Melvin that it was a parcel of joy, fun and entertainment, and it's a lovely Christmas present to see him back dancing again. Bruno says that it was "a festive pick-me-up" (literally, for Janette), exploding with energy and joy. Craig says that he's smiling "inside", and that it was compact and perky "with enormous attack" and he adored the lift. It's great to see Melvin's full potential, he adds. (Isn't it funny how so many people achieve their "full potential" with a charleston despite being absolutely crap at everything else? Genuinely starting to think we should just bin charlestons altogether at this point to level the playing field.)
[I like Charlestons but this was hardly an advert for keeping them, though the last series' charlestons were only saved from being the worst by the tangos, so you may have a point - Rad]
Darcey finishes by saying that she loved the routine, also citing the double cartwheel lift.
Tess refers to him as "Melfin" for the fortieth time this evening, like thanks Tess but
we got it the first time
, and sends him up to see Claudia who points out that his highest mark on the show was 23. Melvin says he'd be happy to get any score, he's already so happy. "ARE YOU? AWWWWW!" hoots Claudia, and please god Claudia, don't start getting as patronising as Tess is, I rely on you for much-needed respite from that. Scores: Craig 10, Darcey 10, Len 10, Bruno 10 for a total of 40. I know it's the season of goodwill and everything, but even taking into account Christmas score inflation
and
the standard charleston score inflation, that is some hot bullshit right there. Seriously, I know Melvin went out in rather unfortunate circumstances and the show probably feels like they owe him some sort of redemption, but this veers right into "he is in possession of incriminating pictures" territory.
Someone hands in some "Christmas crackers" on a platter - literal crackers, like biscuits - and gets the celebrities to read out some cheese-based jokes, but honestly nothing could be funnier than Melvin getting 40 for that charleston right now so I don't know why they are bothering.
The final couple in this year's Christmas special are Frankie and Gorka. They're dancing an American smooth to 'Let It Go' from
Frozen
, which means that Frankie is obviously Elsa and Gorka is wearing a powder-blue suit and some blue eyeshadow, and I am
super
into it.
[Frankie's uber-highlight and golden fake tan, less so - Rad]
Also, no disrespect to the hair and wardrobe team but if you'd told me Frankie was playing Faye Tozer from Steps in this routine I would've accepted it without question.
In her VT, Frankie tells us she had so much fun during her series (evidently, since if I've done my maths correctly she was pregnant by the time it was over) and since then she's been very busy with her two kids, but she's hoping she can go one better than runner-up this time. She's particularly excited to have drawn the American smooth, because it's the one dance that she never got to do with Kevin (although Kevin did give her an American smooth-inspired showdance to make up for it). She's worried about the lifts, though, because she's never been very good with lifts and she's very nervous. In training, Gorka admits to being a big fan of
Frozen
, "but don't say to anyone, you know?" Gorka, hon, you're a professional dancer, I don't think liking
Frozen
's going to do much further damage to your macho street cred. To get Frankie in the mood, Gorka takes her to some sort of dodgy ice attraction thing and gives her a ratty blonde wig. (Gorka's "yes, this is stupid but just go with it" look to camera is adorable.) Frankie says she truly feels like the Snow Queen of Arundel and is then forced to do a bit of business where she pretends to have been frozen to an ice throne.
In terms of structure, this ends up being not drastically unlike her Hallowe'en week tango to 'Defying Gravity', and as a wise person on Twitter on Christmas Day (I've forgotten who it was, please forgive me) pointed out, they're basically the same song anyway. This is mostly evidenced by the routine ending with Frankie being carried up into the air on a tiny platform, but before that we get a cute bit where they lie on the floor and make snow angels with the visual effects, some you-really-didn't-need-to-worry-after-all elegant lifts and a lovely bit of Gorka emoting his little heart out to give Frankie enough time to get into her safety harness. Not a bad way to end the competitive element of the show.
Tess is all "that was
cool
! Eh? Eh? D'you get it?" Bruno says it was beautiful and magical, a perfect dance to end a perfect night. Craig says it melted his heart and he thought her lines were wonderful, and she makes the dance exciting. He loved Gorka's solo too. (
*searches xtube for "gorka solo", just on the off chance*
) Gorka does a cute little "aw, shucks" bow at this. Darcey says seeing Frankie brings back wonderful memories, and her exits from the lifts were seamless. Len wraps up his time on the show by saying "the movie was
Frozen
, but you were on fire". Thanks Len.
Up in the Clauditorium, Claudia rattles through literally everything that we learned in the last 10 minutes including Frankie never having done an American smooth, Frankie having a baby since her series finished, and Gorka doing his little solo. Scores are in: Craig florp, Darcey wibble, Len blerg, Bruno yomp for a total of hurgleburgle, since in the wake of Melvin's charleston all scores are meaningless anyway. (Oh, fine: it gets 40 and Frankie's chuffed because she never got a perfect score during her series.)
What a way for Len to exit though, giving literally everything a 10. What a legacy to leave for yourself: the absolute death of your critical faculties.
Christmas leaderboard:
1=. Melvin & Janette - 40
1=. Frankie & Gorka - 40
3. Pamela & Pasha - 39
4=. Gethin & Chloe - 38
4=. Denise & Anton - 38
6. Ainsley & Karen - 35
[Thank fuck Christmas isn't canon. This is probably the worst one yet - Rad]
Claudia suggests that we need a snowman because it's Christmas, so of course Aled Jones appears to lip sync to 'Walking In The Air'.
After that, there's a recap of the evening's performances, and then Matt Goss comes along to sing 'White Christmas'. Giovanni and Karen dance to the last third of it.
*checks watch*
Then it's time to get festively serious, as Claudia and Tess remind us that Christmas doesn't necessarily provide any respite for people with mental health problems, and cue up a VT of the cast going to a Mind event in North London. The message is very much about the importance of talking openly about mental health at Christmas, and indeed all year round, and someone points out in an Elle Woods-esque style that dancing creates endorphins and endorphins make you happy. Karen leads everyone in a cha cha class, and a woman tells Gethin how learning to dance helped her to cope with her diagnoses of OCD, anxiety and depression. Natalie asks a Mind volunteer what the main message she wants to get across to the world is, and the volunteer tells her that people should not give up hope, and that they should look to the future even during the dark days when you can't really focus on it. Gorka and Janette do a showcase routine, and Anton says how honoured he is to be a part of it all.
Back in the studio, it's time for the result. And the Christmas champions are...
...Melvin and Janette. Well, that's it. I guess it's time we started breathalysing the Christmas audience before we let them vote
[or at least not invite contestants FROM THE CURRENT SERIES whose mates make up half the audience - Rad]
, because this system is clearly broken. I bet the three finalists and the semi-finalist were just
thrilled
to be defeated by a first-boot - good luck trying to cast top tier returners next year, guys, they might not be quite so keen once they know they're going to lose to Tony Jacklin.
Melvin declares this the best Christmas ever, and vows to put the trophy on his front door. The class of 2016 rush the floor, thrilled that their pal has triumphed, and the show closes with a dance themed around
It's A Wonderful Life
(oops, never seen that one either) where everyone gets to bid goodbye to Len one last time. It's a group jive to underrated festive banger 'Underneath The Tree' by Kelly Clarkson, where the men are all wearing really high-waisted trousers and this really highlights Gorka's, um, finest asset. The routine goes off fairly smoothly, though I have my suspicions that Pamela gets
quite
lost in the last 30 seconds or so. When it's over, Len joins Tess and Claudia centre-stage and that is officially a wrap for Len Goodman on
Strictly Come Dancing
.
That's it for us for this year too. All being well, we'll be back in just under nine months' time for the start of
Strictly
2017 paving the path for Tomasz Schafernaker's march to victory. (Look, if I wish for it enough times, it'll happen, right?) Until then: happy new year!