- Stop trying to make Brian Fortuna happen. It is NOT going to happen. His opinion at any given point is "whatever I think will annoy Craig the most", thereby making him not nearly as cool as we initially thought he was. He is still very gentlemanly and admiring of a lady's outfit choice, which endears him to Carrie. But then she fancies James Jordan.
- Len would like the viewers who voted for John Sergeant to be put in the position "to have to throw off those two girls". That's what she said.
- James isn't a sore loser, he's just totally fucked off that he didn't win.
- James's grasp on English grammar is almost as weak as Len's.
- Honestly, nobody at all would be watching the show if John Sergeant weren't in it, and it would be AXED because it would be all about DANCING which is totally BORING, or something.
- Lionel Blair does a moderately impressive Bruno impression.
- Mattesha's cha cha cha is Christine's all-time favourite dance from the show.
- Four Poofs And A Piano are desperately trying to convince us they're still working now the Jonathan Ross gravy train has dried up. Well, apparently. We fast-forwarded that bit.
- Despite attempts to reboot his character, James Jordan is still an ass.
- She may not be much of a dancer, but Kate Garraway is more awesome than you, I, or anyone we know.
- Anton thinks the show hasn't really been a dancing contest since Chris Parker made the final in series one. To be fair, he has a point.
- Austin and Tom did a quickstep together backstage. Try all you want, boys, but you will never be as epicly slashworthy as these two: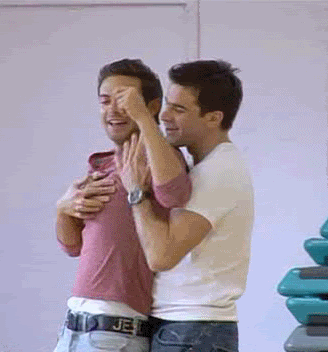 - Austin doesn't know the difference between "camp" and "homoerotic".
- Lilia insists on having a pug in every room for her house. Calm down, "pug" is not a sexual euphemism.
- Ian claims to have a reputation for being good at the jive. Steve's boyfriend begs to differ.
- There is no possibility of Len getting Claudia pregnant.
- Noddy Holder's 14-year-old son Jango has written lyrics to the
Strictly
theme tune which incorporate all the dancers' names.
- Gethin thinks Tom is a great actor. He obviously never saw the Paso Face.
- The dancers uses castor oil on the bottom of their shoes to prevent them from slipping on the floor, because it makes them tacky all through the dance. A bit like Tom.